Ice Cream S'mores
published Friday, May 7, 2021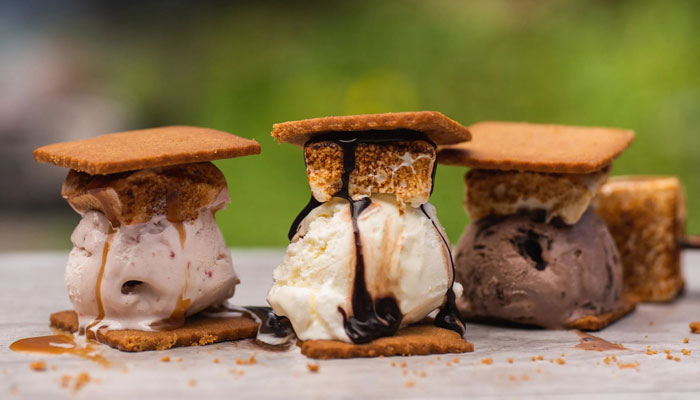 Prep Time: 10 minutes
Cook Time: 2 minutes
Total Time: 12 minutes
Servings: 4
We've combined two summertime favorites – roasted s'mores and ice cream – for the ultimate dessert! 
Directions
Step 1
Skewer marshmallows and roast or toast them until the outside is charred. Place each of the toasted marshmallows onto 4 graham cracker squares.
Step 2
Add one piece of chocolate to the remaining graham crackers and top with one scoop of Tillamook Old Fashioned Vanilla Ice Cream.
Step 3
Add chocolate or caramel syrup, as desired.
Step 4
Place the marshmallow cracker on top of the ice cream topped cracker and close the sandwich.
Step 5
Eat immediately or place on a baking rack in the freezer until you're ready to enjoy them.
Cook's Notes
This recipe calls for vanilla, however you can choose your favorite Tillamook old-fashioned ice cream.