Spider Pizzas
published Tuesday, October 12, 2021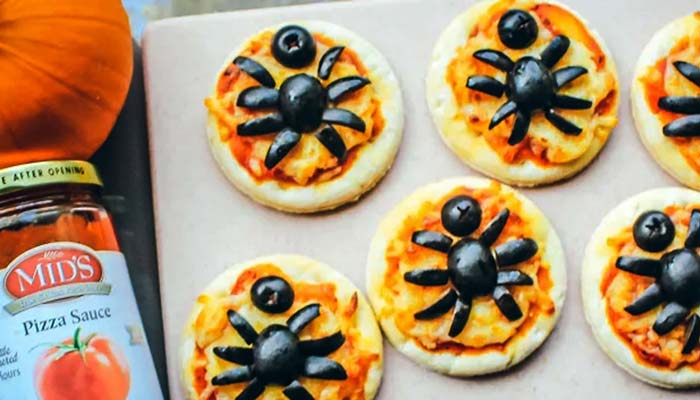 Prep Time: 15 minutes
Cook Time: 15 minutes
Total Time: 30 minutes
Servings: 6
These spooky Spider Pizzas are perfect for some spook-tastic Halloween fun. So easy, kids can help! Serve as an appetizer or for dinner.
Directions
Step 1
Preheat oven to 375°F.
Step 2
Place foil on a baking sheet and grease the foil.
Step 3
Roll out a Pillsbury Classic Pizza Crust. Use a cup to cut out circular pizzas by flipping the cup over and pushing into the dough.
Step 4
Place the mini pizzas on the foiled baking sheet. Spoon MID'S Pizza Sauce onto the mini pizzas. Sprinkle mozzarella on top.
Step 5
Cook for 15 minutes or until cheese is golden brown. Take out of the oven and let cool.
Step 6
To create 'spiders,' place an olive slice as the 'body' of the spider. Halve three olive slices and position those as the 'legs' of the spider. Halve a full olive and place as the 'head' of the spider.
Step 7
Plate and sprinkle with freshly minced parsley.