Strip Steak with Grilled Caesar Salad
published Tuesday, October 12, 2021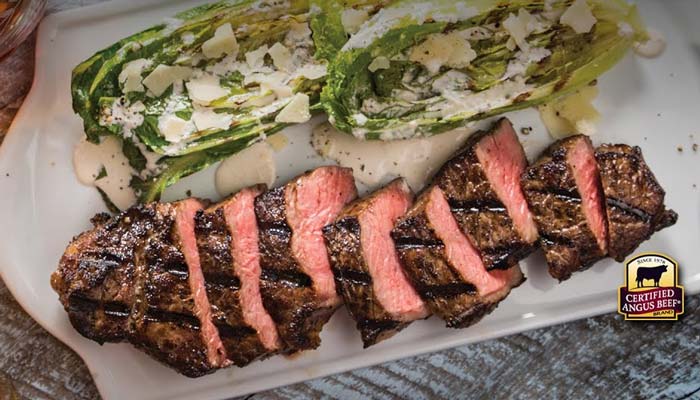 Prep Time: 15 minutes
Cook Time: 15 minutes
Total Time: 30 minutes
Servings: 4
Tender, juicy strip steaks served with smoky grilled romaine drizzled with homemade Caesar dressing and Parmesan.
Directions
Step 1
In a mixing bowl, prepare Caesar dressing. Whisk together yogurt, mayonnaise, 1/4 cup Parmesan, lemon juice, olive oil, Worcestershire, anchovy paste (or 1/4 teaspoon salt if not using anchovy paste), garlic and 1/4 teaspoon pepper. Refrigerate.
Step 2
Preheat grill to medium high, season strip steaks with salt and remaining pepper and grill to desired doneness, 5-7 minutes per side for medium rare. Allow steaks to rest 5-10 minutes, lightly cover with foil. While steaks are resting, turn grill to high or use remaining heat from charcoal.
Step 3
Lightly spray or brush romaine hearts with oil, using just enough to coat the flat core surface. Briefly grill lettuce to create a char on it without letting the lettuce get soggy; about 1-2 minutes.
Step 4
Serve romaine whole or chopped, top with Caesar dressing. Thinly slice steak and place on top of salad; garnish with remaining Parmesan.