Breakfast Nachos
published Friday, May 20, 2022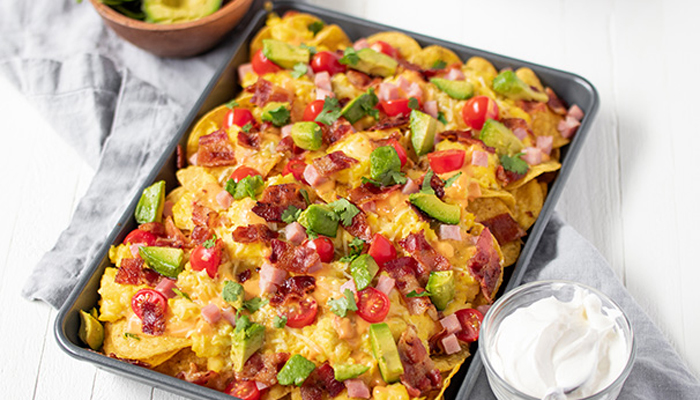 Prep Time: 10 minutes
Cook Time: 25 minutes
Total Time: 35 minutes
Servings: 6
Turn your favorite snack into a delicious breakfast that the whole family will dive into with Breakfast Nachos!
Directions
Step 1
Preheat oven to 350°F.
Step 2
In a medium pan over medium heat, scramble eggs and milk with salt and pepper to taste, stirring toward the center until completely set.
Step 3
Assemble the nachos by spreading the tortilla chips in an even layer on a baking sheet. Layer scrambled eggs, cheese sauce, pepper jack, bacon, and ham.
Step 4
Bake for 5-7 minutes or until cheese is melted.
Step 5
After baking, top with tomatoes, avocado, and cilantro, and serve.